Introduction
WordPress and Kajabi are both popular platforms for creating websites that monetize your expertise. However, they take two different approaches. Some of their differences stem from their different product philosophies, whereas others are of technical nature.
With so much functionality available in both WordPress and Kajabi, making a choice for your business can be overwhelming. At Studio for Digital Growth, we help clients that use both platforms and understand the pros & cons, as well as the challenge of choosing between the two.
In this article, we hope to shed some light on their different features, approach, and intended use cases. Our first-hand experience comes from working on website marketing projects; therefore, this guide brings a unique digital marketing perspective to help you choose the best solution for your business's digital marketing funnels and lead generation.
What's the difference between Kajabi and WordPress?
The difference between Kajabi and WordPress is that Kajabi is an all-in-one online business platform, whereas WordPress is a free and open-source content management system.
In practical terms, this means that Kajabi offers many popular features out of the box. You can use Kajabi to create a website, send email campaigns, and sell digital products, all within the same platform.
WordPress, on the other hand, is a highly customizable website platform that can work together with your favorite marketing tools. For example, you can use it together with Mailchimp for your email marketing campaigns or in tandem with Memberful to monetize your website by offering memberships. It also supports natively the very popular e-commerce platform WooCommerce, which you can use to sell digital products and receive payments through your website.
Kajabi vs. WordPress: How to choose which one is the right platform for your business
Pros and cons of WordPress
WordPress is an open platform, offering you more choices over different aspects of your website. For example, you can choose which hosting provider you'd like to use, which can have a significant impact on your website's speed. You can also tailor the functionality, design, and user experience of your website pages, such as your service or product pages, blog, vlog, lead magnets, and lead forms.
This ability to customize WordPress provides much-needed flexibility to marketing experts such as ourselves, as well as our developers and designers, to create truly customized solutions for our business customers. It allows us to implement advanced analytics and conversion tracking for our clients' ad campaigns, bring to life pixel-perfect designs to optimize the customer journeys of website visitors, and integrate the marketing tools our clients prefer.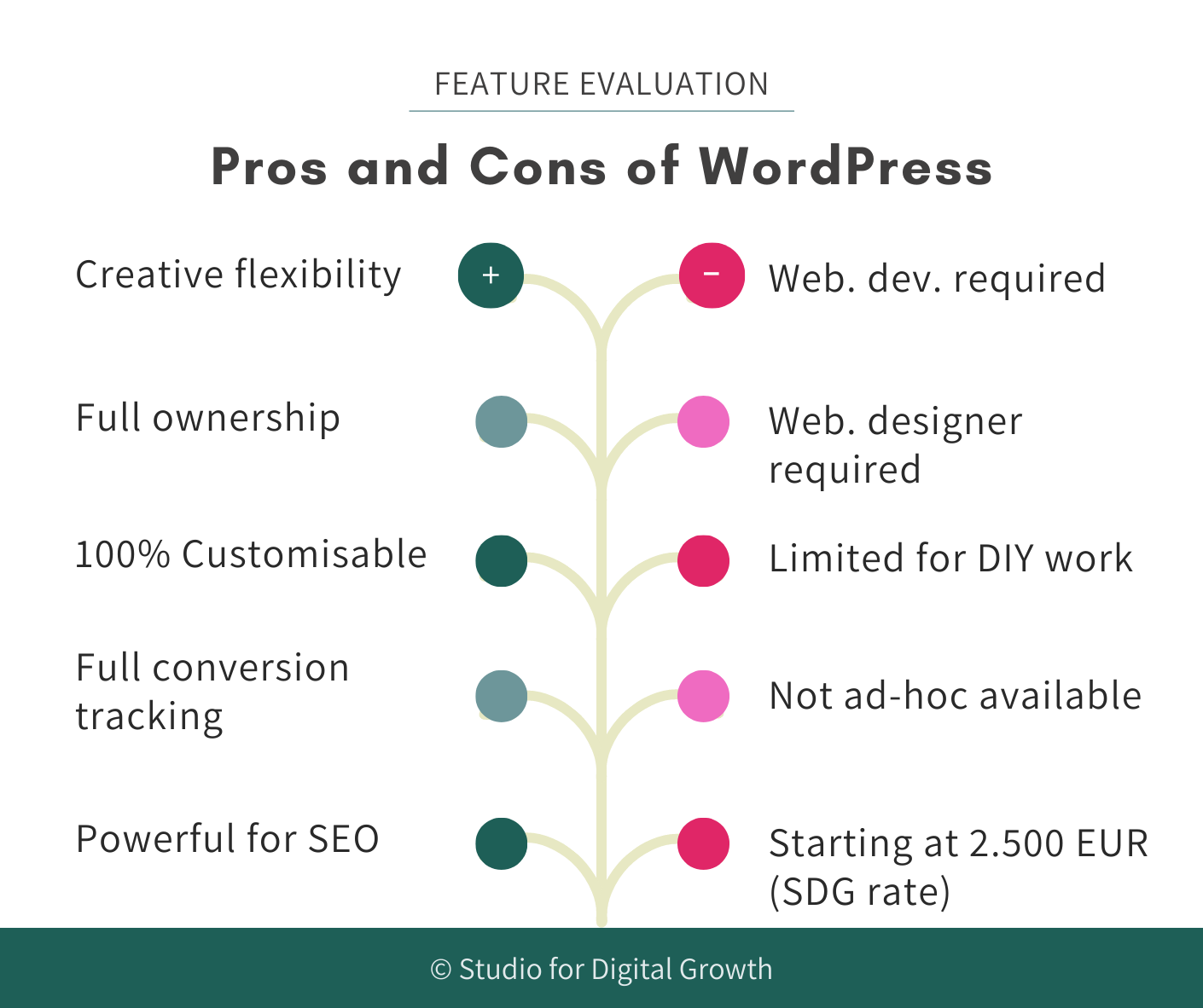 But WordPress is not all roses if you are a solopreneur (coach, consultant, expert) with a DIY approach and without expert help. Whereas WordPress is simple to use once set up properly, extending it yourself using third-party tools and plugins might feel scrappy and leave much to be desired.
Pros and cons of Kajabi
Kajabi, on the other hand, includes many popular features out of the box. You can use the built-in website builder and templates to create a web design, sell your digital products, and launch sales funnels and email campaigns all by yourself with minimal setup. In our experience, you might find your website design, visual branding, and marketing funnels lacking in some areas, but having all this functionality in a single, easy-to-use platform is a great option for those coaches and consultants who want to do their website and marketing themselves. Furthermore, we can certainly help clients that use Kajabi to improve those areas despite the limitations imposed by the closed nature of the platform.
Additional considerations
1. Switching costs
When it comes to choosing between Kajabi and WordPress, it's important to remember that migrating your website from one platform to another at a later stage (e.g., from Kajabi to WordPress or from WordPress to Kajabi) comes with switching costs. You will need to make a brand new website from scratch, shut down your old website gracefully, connect your domain and take the necessary steps so that search engines pass your rankings over from the old pages to the new ones.
If you are thinking about doing this, we recommend contacting us, as we can help you navigate this process. But if you're trying to make a decision between WordPress and Kajabi, our advice is to think about your future needs as well. For example, if you plan to continue doing self-marketing, then perhaps Kajabi is better suited to your needs. But if you plan to work with marketing, design, or development experts in the future, perhaps you should consider launching your website with WordPress.
2. Pricing comparison
Kajabi's offering is subscription-based. They offer a few different pricing tiers, each giving you access to a different set of features. At the time of writing, the basic tier costs $149 per month if you pay month-to-month or $1788 for the whole year ($1428 if you pay annually). Remember, though, that removing Kajabi's branding from your website is part of the Kajabi Growth Plan, which costs $199 if you pay month-to-month or $2388 for the whole year ($1908 if you pay annually).
With WordPress, it's a very different story, as you only pay once to develop your website. You will incur monthly costs for web hosting, generally between $15 to $20 per month for a fast server and any premium third-party tools you may want to use. For example, the popular email marketing platform Mailchimp has a free tier, and their first premium offering starts at $13 per month at the time of writing.
One of WordPress's benefits is that you are not tied to a specific platform. You can easily move your website to a different cloud hosting provider or switch between different marketing tools and email marketing platforms. It's important to remember, though, that getting expert support for anything website-related (additional functionality, changing providers, and integrations) will also incur additional costs.
If you want to learn more about developing your WordPress website with us, you can schedule a call.
3. Privacy & GDPR
One last thing to consider is your privacy and data processing requirements. If you plan to use Kajabi, you will be pleased to know it is GDPR-compliant and has also taken steps to help Kajabi websites with their compliance. However, depending on your jurisdiction and compliance requirements, you may want to further limit data shared with third parties. If this is a requirement for your business (e.g., loading Google Fonts locally, not sharing customer and visitor data with third parties, etc.) WordPress can be configured to work this way, making it a privacy-friendly option.
Creating a marketing-ready business website with Kajabi vs. WordPress
Website themes
According to some statistics, WordPress is behind 40% of websites on the internet today. So it should come as no surprise that there is a plethora of marketplaces that offer collections of free and premium WordPress themes that cater to various industries, styles, and functionalities. But using a ready-made theme is far from your only option. You can partner with Studio for Digital Growth today to create a marketing-ready WordPress website with a bespoke design and theme made specifically for your business.
On the other hand, Kajabi takes a different approach. It offers a selection of pre-designed themes that you can use together with Kajabi's website editor to create a custom DIY website design for your business. Although Kajabi doesn't offer a large selection of website themes compared to WordPress, it features a straightforward, user-friendly visual editor that enables you to tailor your website design to suit your business requirements and integrate it with Kajabi's extensive list of features.
Website development & design
WordPress is powered by the popular Php programming language. This empowers developers and designers to create bespoke integrations and plugins to suit your specific business and marketing needs. Moreover, you can choose from over 60.000 free plugins that you can install with one click to add additional functionality to your WordPress website.
In contrast, Kajabi takes a more streamlined and user-friendly approach to design and development, focusing on its visual editor and integrating it with its built-in and ready-to-use features. Kajabi themes are built on top of Liquid, a website template language created by Shopify. This means that customization and extending the functionality of Kajabi themes through custom development is possible. However, we've had a hard time finding software developers with prior Kajabi experience, and since it's intended to be used as an all-in-one platform, you will eventually hit the ceiling of its customization potential.
Search Engine Optimization
WordPress is highly regarded for its strong SEO capabilities and extensive options to optimize your website for search engines. With WordPress, you use a wide range of SEO plugins, including Yoast SEO and Rank Math, both of which provide robust tools for on-page optimization, keyword analysis, XML sitemap generation, and more.
Additionally, WordPress allows you to develop custom functions for adding metadata, giving you greater control over the technical aspects of search engine optimization, and unlocking Google's visual or interactive search result features.
Kajabi's SEO options, on the other hand, are more limited. While it offers core SEO features, these are limited to the built-in functionality, which you might find lacking in some areas (e.g., setting up redirects or implementing video metadata). Nevertheless, it's still possible to achieve good SEO results despite its limitations if you know how to work around them. If you'd like to learn more, check out our Kajabi SEO guide or get in touch today to learn more and discuss your particular needs.
Selling digital products
WordPress's extensibility means that you can choose from a wide range of plugins to create a fully functional online store for selling digital products or creating a membership program. With WordPress, you control several aspects of your e-commerce platform, including choosing between payment providers (e.g., Stripe) for accepting card payments, Apple & Google Pay, or using Paypal, etc. Moreover, you can further tailor WordPress's e-commerce functionality to sell from physical books or e-books to tickets for your online webinars, one-on-one coaching sessions, group coaching, masterminds, and more.
In contrast, Kajabi is designed specifically for selling digital products and creating online courses. It is an all-in-one platform that streamlines the process of product creation, marketing, and delivery and offers powerful features such as customizable product pages, integrated payment processing, content drip scheduling, membership site functionality, and sales funnel management.
Kajabi's emphasis on simplicity and user-friendliness makes it an attractive option for entrepreneurs who want a comprehensive solution without needing technical expertise or integrating multiple tools. However, you are limited to the built-in payment gateways. Nevertheless, Kajabi supports both Stripe and Paypal which are both great options for accepting online payments.
Updates and security
WordPress brings a lot of flexibility and choice over which providers you use. However, this comes with the cost of the need for updates and taking security precautions. You will need to create and manage several accounts, including your WordPress login, web hosting, and any third-party marketing tools and integrations. We always recommend creating strong, unique passwords for each of these services for maximum security.
Moreover, both WordPress, its plugins, and the hosting server should be updated frequently to the latest software versions to keep them secure. Updates also increase the potential for system errors, and therefore we recommend setting up automatic backups for your website. This might sound intimidating at first, but it's not as difficult as it sounds. Moreover, we offer a done-for-you hosting service (only for clients) and take care of all these for a flat monthly fee.
The situation with Kajabi on the other hand is much simpler. As a fully managed cloud-based platform, all updates and security patches are automatically applied without the need for manual intervention from your end. You only need to create a secure password for your Kajabi account and won't need to think about security or updates. However, if Kajabi is down during platform updates or scheduled maintenance, there isn't anything you can do about it, as all technical aspects of your website hosting are outside of your control.
Final thoughts
In conclusion, both Kajabi and WordPress offer unique pros and cons that should be carefully considered before making a decision. Kajabi's all-in-one solution is ideal for entrepreneurs focused on digital product sales, while WordPress provides greater customization options and SEO capabilities. Evaluate your specific business needs, technical expertise, and long-term goals to determine which platform best aligns with your requirements.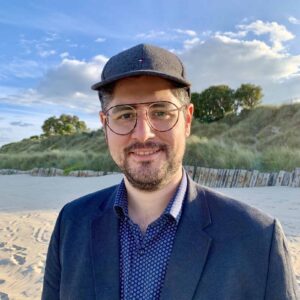 Design & development of marketing-ready websites
Sign up for a consultation with Konstantinos to get a quote.
→ Book a consultation