The Mistake That Cost Me 2 Months of Work
Back in February 2021, when I started The 20 Percent, I decided to try out Substack. People (many with significantly larger audiences than mine) talked about it, and it promised to make running my email publication easy and enjoyable. I took it on that promise. It was a mistake that cost me two months of work. Here's what happened:
The Benefits of Writing on Substack
Substack made it very easy for me to get started. If you want a clean text editor to write down your ideas and a send button to email them to your readers, there is nothing more straightforward to use than Substack.
Substack also makes it very easy to accept sign-ups and even monthly payments for premium membership content.
How Substack Became a Costly Mistake
The downside of running The 20 Percent on Substack became apparent after about half a year into the project. Despite having published consistently almost 30 pieces of content, it was receiving close to zero organic visibility.
Some important factors:
I was using the newly registered custom domain the20p.co
I've been promoting The 20 Percent consistently on my social media accounts and linked to it from my business and personal websites.
I introduced good interlinking between the weekly editions
So, How Bad Is Substack for SEO?
At this point, you may be wondering if this could be somehow prevented and if it is the case with every newsletter run on Substack. I think it was due to a variety of reasons:
Reason 1: Substack primarily focuses on making it easy for people to run premium(paid) membership email publications.
Although you can have a free membership subscription tier, and free content can be made available to everyone on the internet, I have a feeling that it's still an afterthought compared to Substack's primary business direction. Therefore, there's not much control over your published content or advanced SEO options.
Reason 2: Google doesn't like new websites, and every substack newsletter is one.
We refer to the first 6 to 12 months of a site as the sandbox period in the SEO business. Google basically wants to see that you publish consistently good quality content, run a technically sound website and play by the rules when it comes to links before they start sending traffic your way.
This can be the case for newly registered domains and subdomains that live under your main business website.
After all, every subdomain, e.g., example1.your-site.com, example2.your-site.com, is technically a different website. I chose to register a new domain for The 20 Percent, but it would make very little difference if I used Substack's subdomain the20p.substack.com or even the20p.studiofordigitalgrowth.com.
Show Me the Numbers
Despite passing the 6-month mark, The 20 Percent was not gaining any visibility on Google, even for long-tail marketing keywords. You could argue that I should wait longer, but in my experience, there was something off with the picture below.
Substack was just not cutting it. And anyway, the long-term vision for this content was to find a new home on our website, Studio for Digital Growth, eventually.

In comparison, after moving everything over to my main WordPress site and with zero content optimization, The 20 Percent received more Google visibility than in 6-months of Substack publishing combined.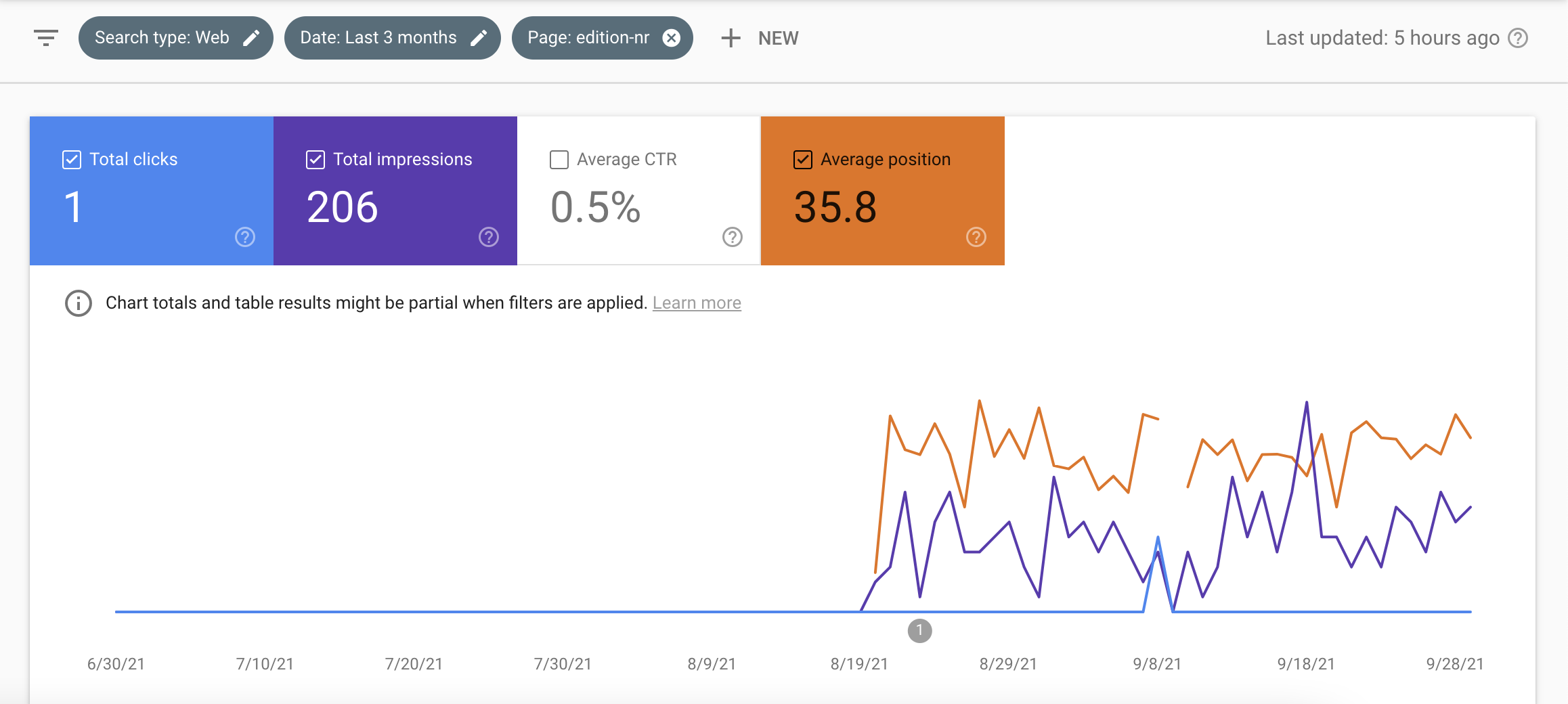 The Logistics of Moving Your Substack Newsletter to Your WordPress Site
Moving from Substack to WordPress involves moving your existing content and setting up several systems to replicate Substack's functionality.
How to Move Your Content From Substack to WordPress
Moving the content was the easiest part. I used the Substack Importer plugin to import my content, author information, and images to my WordPress blog. The import process was not perfect, though, and a few posts didn't make it over to WordPress. Nevertheless, this sped up the process quite a lot.
Formatting Your Content
After everything was imported, I manually reviewed each post's content to check for formatting errors. Thankfully, Substack Importer works well with WordPress's Gutenberg editor, and there were only a few such instances.
Setting Up Redirects
Substack doesn't provide a way to create redirects or add canonical tags, so moving your content away from its platform can lead to broken links, lost backlinks, and duplicate content issues. So after I moved my content to WordPress, I set up some redirect rules for my custom domain on Cloudflare. Cloudflare uses Edge computing to create page rules, so I didn't even need to set up the custom domain with a hosting plan; I just redirected everything to Studio for Digital Growth.
Metadata and Optimizations
Moving the content over is half the picture, though. Every post needs to have its new URL configured and optimized and a proper meta title and meta description. My favorite tool for doing this in WordPress is Yoast.
Replacing Substack's Functionality on WordPress
Now that the content was finally ready at its new home, it was time to set up my website functionality for running the weekly newsletter. Substack offered the following distinct elements that I wanted to replicate:
A sign-up page for new Subscribers
An archive page with all the content
Email marketing platform for messaging my subscribers
I decided to design the sign-up page with Generate Press, my theme builder of choice for a native WordPress feel. Since I want The 20 Percent content to live alongside everything else in our blog, I created a WordPress category that houses the newsletter archive.
For our email marketing platform, I decided to stick with Mailchimp. I find it a bit slow and clunky, but it's predictable, and it somehow is the only email marketing platform I've stuck with throughout the years.
The only thing that didn't work for me was the default sign-up forms from Mailchimp. The embedded form was difficult to work with and always felt out of place – even the "simple form" that comes preloaded with Mailchimp's styles.
In the end, I opted in for the fantastic Gravity Forms plugin. It allowed me to spin up a good-looking and fully functional sign-up page. Moreover, it's a useful plugin to use throughout the site.
Last but not least, I thought about replicating Substack's membership functionality using Memberful. Still, since I am not keen on implementing paid newsletter tiers, I decided against it. The current functionality just works, and I am happy to continue with it.
The Future of The 20 Percent
I have to admit that moving The 20 Percent to Mailchimp (and also posting it on the blog) doesn't sound like a two-month project at first. But once you start doing it, the level of detail that goes into every little aspect of the project snowballs.
From designing sign-up pages to troubleshooting email forms, creating email templates, and adjusting page metadata, I can surely attest that moving from Substack to a self-publishing solution is a much larger project than it sounds.
On the other hand, it's a step in the right direction that I enjoyed taking.
Most details have been nailed down, and I am ready to resume with many new ideas from Sunday, Oct 17, 2021, onwards.
Thank you for reading, and if you need any support on your move away from Substack towards self-publishing, don't hesitate to drop me a message.
Stay inspired,
Konstantinos